Millianigan; A Brief History
In 1977 an advertisement soliciting the property now known as Millianigan was ran in The Shopper, a local South Holland paper.  A meeting was held at the Elkhart Holiday Inn to introduce a concept of  co-op ownership, it was attended by the Francis and Hnatuskos families whereas the individual cottages and rights to the property were offered from between $4,000.00 to $8,000.00 depending upon the relative shape of the structures and included amenities – only 4 cottages had kitchens. By Memorial Day of that year all cottages were purchased, 10 were teachers and the general ages of the new owners ranged from 20 to 50 years old.  In the early existence of the property there was only one point of access at the old Wagon Wheel and the main road was in front of the cottages on the lake side.  The channel had been filled in whereas only a trickle of water ran through and the island was completely overgrown and uninviting with a single railroad tie as the only access.  The land from the top of the hill to the channel was a mass of wild and thorny bushes among so many mature trees that the area was almost in complete shade.  Through this area only a small path existed to what was the beach in front of the old lodge which was demolished to make room for the 4 homes to the North of the property.  Some of the original cottages were in decent shape, but many needed major repairs; however, early regulations required a single wall of the original structure be left standing which inhibited complete demolition and rebuilding.  The cottage owners incorporated their group ownership structure which resembled a co-op that gave each owner a share of stock and access rights to the property, Bill Francis was elected the first of many Presidents who presided over the Association.  This type of ownership prevailed until it was changed in 2015 to a site condominium.  As of 2016 there are only 3 original members (Bruno, Gill, Francis) still part of Millianigan.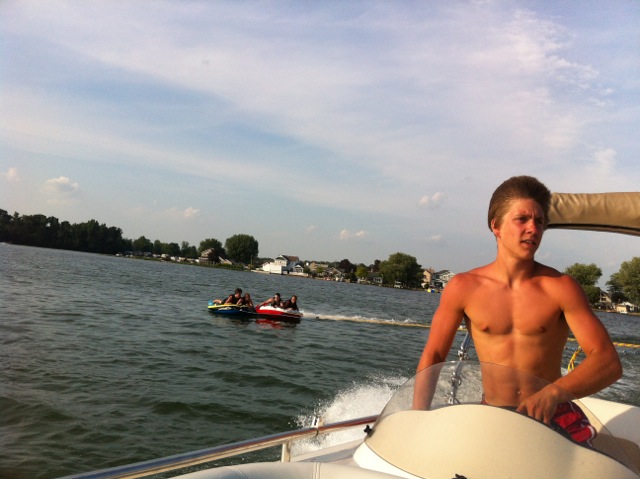 Summer Day Lake Life
Boating, Tubing, Grilling, Camp Fires – Repeat…..
A Resource For All Millianigan Members
This site was designed for the members of Millianigan Condo Association to communicate, post pictures and events, access documents and email forms. Get familiar with the many resources on this site and enjoy.